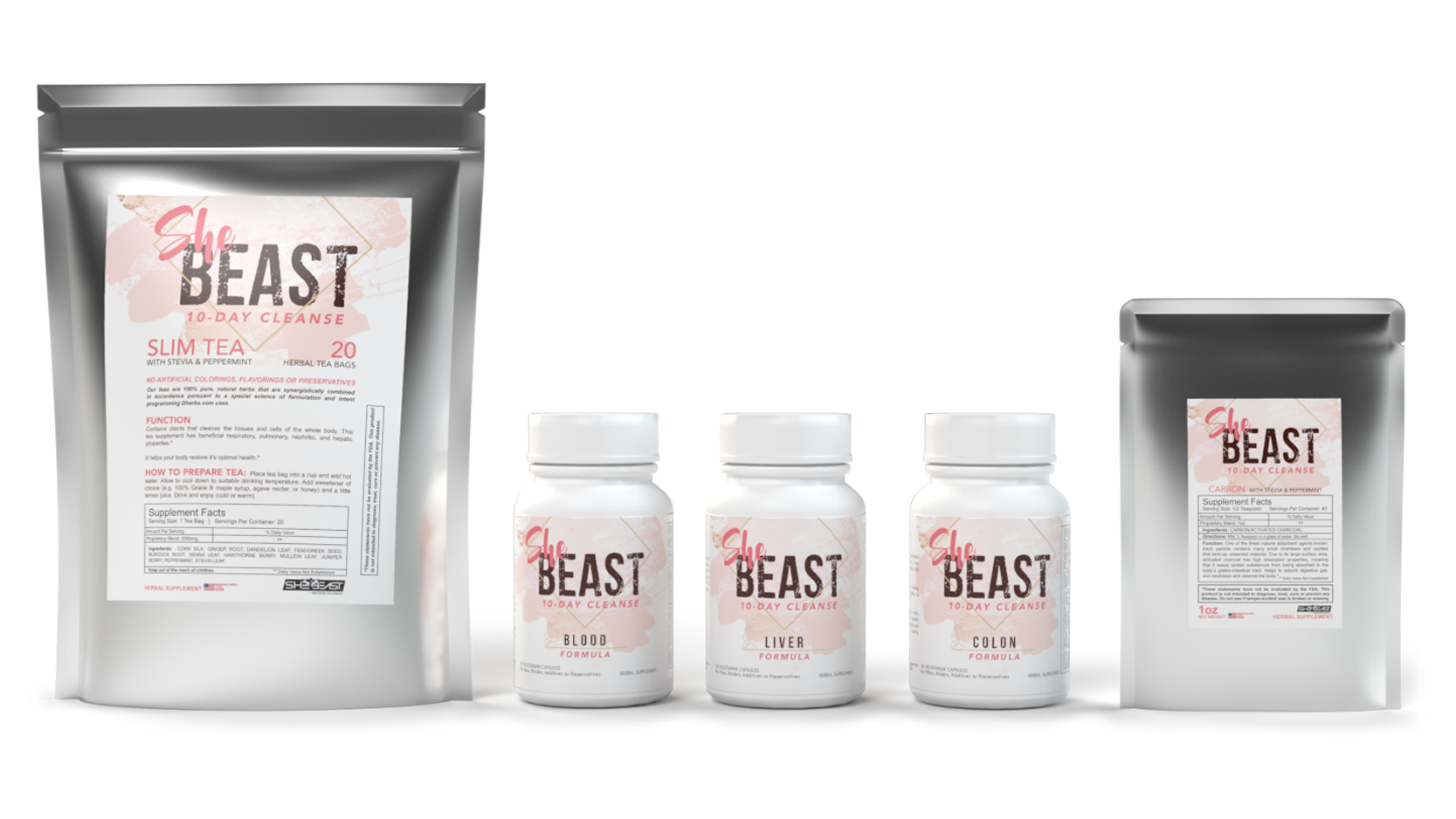 She-Beast Cleanse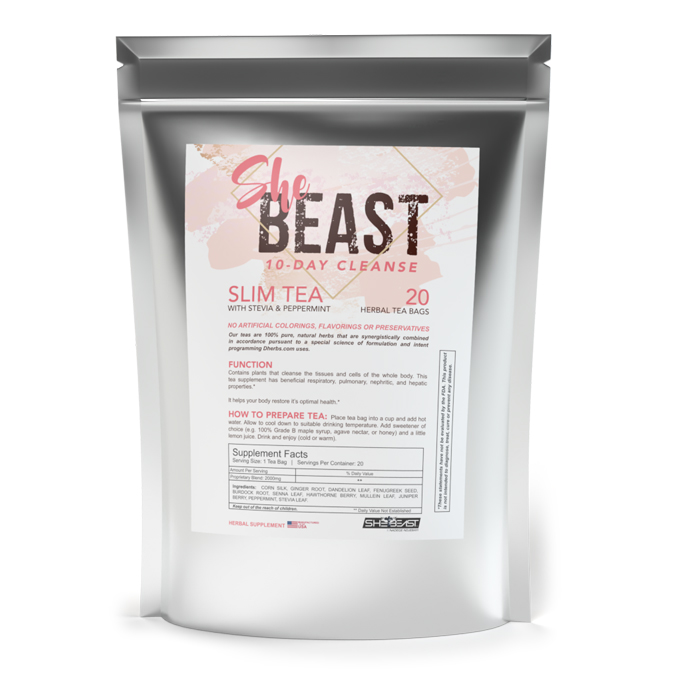 Slim Tea
Sweetened with stevia and peppermint, this therapeutic tea contains herbs that work to cleanse all of the body's tissues and cells. The herbs in this tea have potent nephritic, pulmonary, respiratory, and hepatic properties.
Ingredients
CORN SILK, GINGER ROOT, DANDELION LEAF, FENUGREEK SEED, BURDOCK ROOT, SENNA LEAF, HAWTHORNE BERRY, MULLEIN LEAF, JUNIPER BERRY, PEPPERMINT, STEVIA LEAF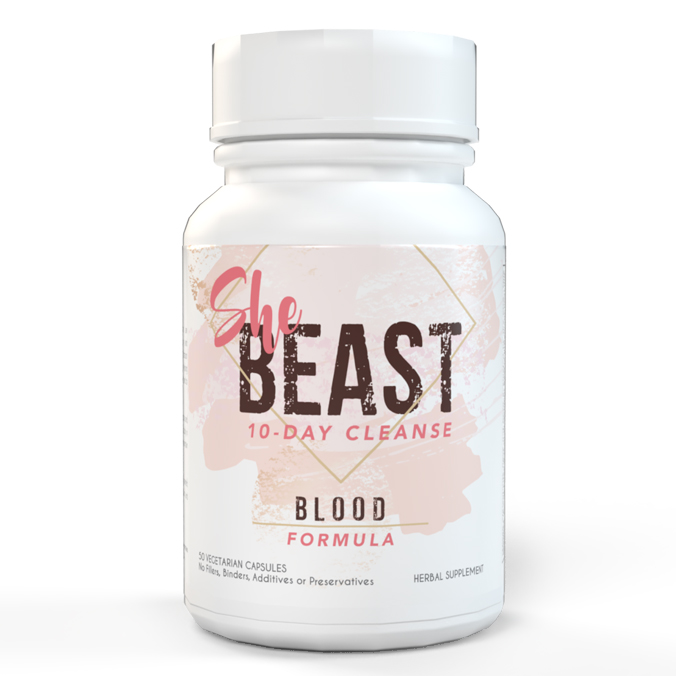 Blood
Containing powerful plants that help to expel the waste from your lymphatic system, this formula is beneficial for healthier skin and clearer complexion. It also helps your circulatory and lymphatic systems function optimally.
Ingredients
DANDELION ROOT, BURDOCK ROOT, KELP ALGAE, NETTLE LEAF, OLIVE LEAF, BEET ROOT, MANJISTHA ROOT, CHICKWEED HERB, PAU D'ARCO BARK, ECHINACEA ANGUSTIFOLIA ROOT, SPIRULINA ALGAE, SARSAPARILLA ROOT, YELLOW DOCK ROOT, DRAGONS BLOOD, BITTER MELON FRUIT, RED CLOVER HERB, SASSAFRAS ROOT, AMLA FRUIT, CLEAVERS HERB, VIDANGA FRUIT, CAYENNE PEPPER, GOLDENSEAL ROOT
Liver
Although this formula works to cleanse the liver and gallbladder, it also helps to maintain normal cholesterol levels, while assisting with healthy bile production. Keeping your liver healthy is a great way to promote natural detoxification.
Ingredients
SCHISANDRA BERRY, BEET ROOT, DANDELION ROOT, FENUGREEK SEED, ARTICHOKE LEAF, ROSEMARY HERB, TURMERIC ROOT, LICORICE ROOT, BOLDO LEAF, MILK THISTLE ROOT, BUPLEURUM ROOT, AMLA FRUIT, MANJISTHA ROOT, SARSAPARILLA ROOT, PEONY ROOT, BHRINGARAJ LEAF, BHUMYAMALAKI HERB, PIPPALI FRUIT, GOLDENSEAL ROOT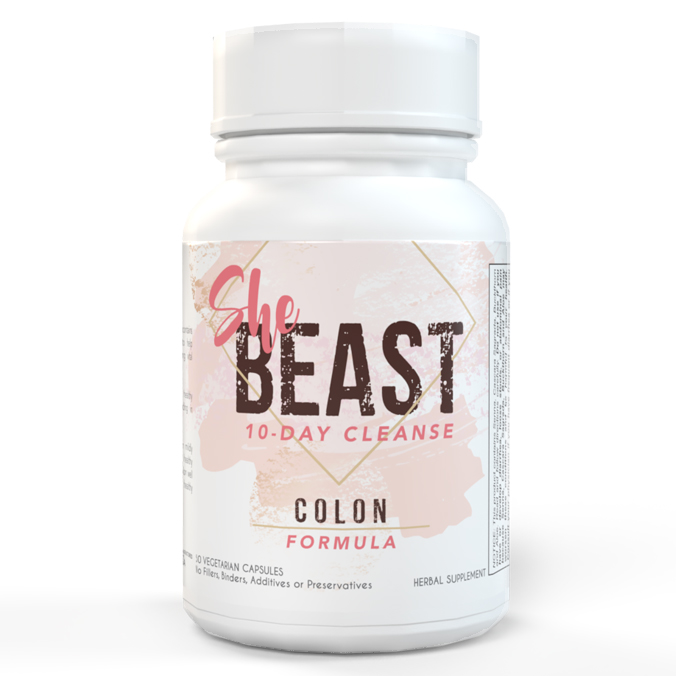 Colon
Having a healthy digestive system is one of the first steps towards successful weight loss. This herbal formula helps to relieve gas & bloating, cleanse the colon of built-up waste, and help the colon retain vital nutrients.
Ingredients
SENNA LEAVES, CASCARA SAGRADA BARK, CARBON (ACTIVATED CHARCOAL), BUCKTHORN ROOT, HARITAKI FRUIT, PSYLLIUM HUSK, FENNEL SEED, ALOE VERA LEAF, GINGER ROOT, CLAY BENTONITE, SLIPPERY ELM BARK, CAYENNE PEPPER, WHEAT GRASS, BARLEY GRASS, BLACK PEPPER, TURMERIC ROOT, IRISH MOSS, POKE ROOT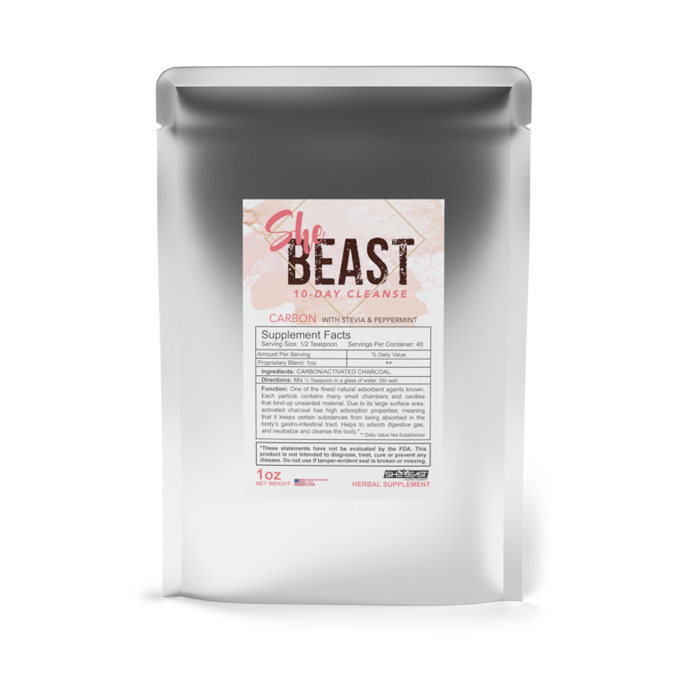 Carbon
This fine substance binds to unwanted material in the body before it is naturally eliminated. Not only does it ease digestion, it also helps to deep clean the various tissues in the body.
Ingredients
CARBON (ACTIVATED CHARCOAL)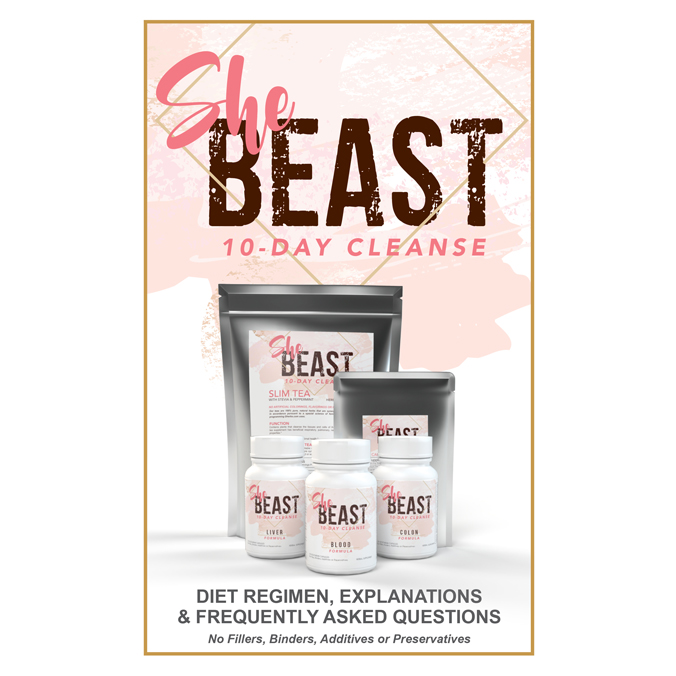 She-Beast Cleanse Booklet
The She-Beast Cleanse booklet is a concise manual that details how to cleanse successfully. Complete with cleansing tips, recommendations, a sample menu, and list of what you can and cannot eat, this booklet will help you on your path to better health.
So what are you waiting for?
Jump start your lifestyle change with a cleanse to get the body functioning at its best.
FREQUENTLY ASKED QUESTIONS